error_reporting (E_ALL ^ E_NOTICE); if (!$name) { $name="Critters"; $textonly=1; } ?> if (!$newspage) include("/home/httpd/html/users/critters/notices.inc") ?>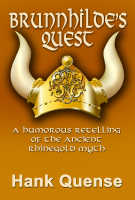 Brunnhilde's Quest
by Hank Quense
Price: $1.49
Format: Ebook for Kindle (.mobi), Nook/iPad/others (.epub),
This novella is a fantasy spoof of the ancient Rhinegold myth used by Richard Wagner in his Ring Cycle of operas. The tale has something for every reader: love, greed, treachery, lust, murder, magic and incest. All provided by a legendary cast that includes: * Brunnhilde, an exiled Valkyrie who seeks the secret of mortal love. * Siegfried, a hero with a really strange background. * Fafner, a greedy dragon, formerly a greedy mortal. * Alberich, a nasty Nibelung (some would call him a smelly, dirty dwarf.) * Wotan and Loki, gods of Asgard. * Lots of mortals, assorted Valkyries, several birds and the earth goddess.
~~~
This ebook is in your choice of formats that work for almost every ebook reader and has no copy protection ("DRM"). Read it on any reader you want, any time.
I hope you enjoy the ebook! If you like it, please tell others to visit https://critique.org/c/store
---
error_reporting (E_ALL ^ E_NOTICE); ?>