Blog
Critter Notices
Critters is 22!
Yes, 21 years ago Critters was born. Wow! Thanks so much to all of you, who've made it such a resounding success!
Books from Critters!
Check out Books by Critters for books by your fellow Critterfolk, as well as my list of recommended books for writers.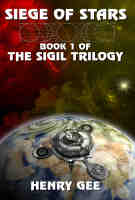 The Sigil Trilogy
If you're looking for an amazing, WOW! science fiction story, check out
THE SIGIL TRILOGY
. This is — literally —
one of the best science fiction novels I've ever read.
A Guide to Barsoom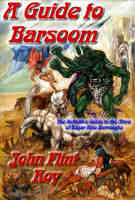 The ultimate, definitive
GUIDE TO BARSOOM from ReAnimus Press.
NOW IN PRINT EDITION TOO. The best guide to Edgar Rice Burroughs' Mars series.
P&E Seeks New Caretaker
Unfortunately, much of the data on the P&E site has become stale and outdated, and needs a new caretaker with the time required to update the site. The listings are being removed until they can be updated by a new caretaker.
Note that the P&E/Critters Annual Readers Poll will run as usual in January.
If you are interested in taking the reins of P&E, and possess what's needed — at least 20hrs/week to volunteer, excellent investigative skills, in-depth knowledge of the publishing industry, ability to detect scams from not-scams, thick skin, good web site skills, good writing ability — please get in touch. Thanks for your interest!
Interviewed!
I'm being interviewed live on public radio for Critters 20th birthday. For those who want to listen, it's on the 10am (Mountain time) show on Thursday, 11/19/16, on Colorado Public Radio - www.cpr.org has streaming on the site or it's 90.1 FM in the Denver area. [Interview is done, you can listen on the site]
Free Web Sites
Free web sites for authors (and others) are available at www.nyx.net.
ReAnimus Acquires Advent!
ReAnimus Press is pleased to announce the acquisition of the legendary Advent Publishers! Advent is now a subsidiary of ReAnimus Press, and we will continue to publish Advent's titles under the Advent name. Advent was founded in 1956 by Earl Kemp and others, and has published the likes of James Blish, Hal Clement, Robert Heinlein, Damon Knight, E.E. "Doc" Smith, and many others. Advent's high quality titles have won and been finalists for several Hugo Awards, such as The Encyclopedia of Science Fiction and Fantasy and Heinlein's Children. Watch this space for ebook and print editions of all of Advent's current titles!
Network speeding up
I'm switching the connection over to a new, shiny 10X faster network because of all the load. There might be bits of downtime as your boxes learn new addresses and things. Should be brief. Let me know of any prolonged outages you see.
Preditors & Editors Changeover
With the very sad passing of Dave Kuzminski, who ran P&E, I've taken over the P&E duties. Lots of what I hope are improvements; check it out at pred-ed.com.
Critters Server is Dying has been Replaced
See important details here in my blog. Let me know if you find anything that isn't working right. (Manuscripts are now available for this week, FYI.)
Book Recommendation
THE SIGIL TRILOGY: The universe is dying from within... "Great stuff... Really enjoyed it." — SFWA Grandmaster Michael Moorcock
Announcing ReAnimus Press
If you need help making ebooks from manuscripts or print copies—or finding great stuff to read—look no further! An ebook publisher started by your very own Critter Captain. (And with a 12% Affiliate program.) [More]
~~~
FEATURED BOOK
~~~
Who Sent What?
This is a list of what critiques have been filed "recently" (roughly within the last 30 days). If a critique you sent a while back isn't on the list, go ahead and send it again. (No harm if it ends up that it was a duplicate, eh?)
Last updated: Thu Mar 22 00:02:45 MDT 2018
Based on last critique filed at: Wed Mar 21 22:37:58 MDT 2018
This is updated daily. You may have to do a reload to get your browser to update the page.
The queue (which has titles/authors to match up with the numbers) is here.
Critter ... ms#
crit11073: 27440, 27463, 27500
crit12783: 27440, 27450, 27493
crit12848: 27488
crit13076: 27469, 27500
crit13158: 27430, 27439, 27443, 27460, 27462, 27470, 27486, 27488, 27490
crit13410: 27463
crit14687: 27434, 27444, 27472, 27482, 27500, 27524
crit15726: 27439, 27478, 27501, 27502, 27511, 27529
crit16552: 27289, 27387, 27459, 27493, 27495, 27497
crit16822: 27462
crit17332: 27460, 27485
crit17973: 27467
crit18134: 27449
crit18140: 27460, 27479, 27495
crit18661: 27473
crit18664: 27444, 27473, 27487, 27493, 27519
crit18698: 27443, 27493
crit19302: 27445, 27458
crit19569: 27458, 27464, 27481, 27508
crit20540: 27439, 27444, 27456, 27457, 27458, 27459, 27466, 27473, 27478
crit20724: 27387, 27441, 27449, 27498, 27500, 27505, 27519
crit20927: 27493, 27496, 27501, 27517
crit210: 27289, 27413, 27438, 27439, 27459, 27465, 27477, 27495, 27515
crit21275: 27430, 27445, 27480, 27529
crit21474: 27460
crit21586: 27289, 27438, 27445, 27477, 27486, 27493
crit21739: 27289, 27438, 27439, 27443, 27453, 27487, 27490, 27495, 27497, 27510, 27515, 27517, 27519, 27520, 27524, 27526, 27529
crit21907: 27489, 27518
crit24047: 27438, 27514
crit24108: 27445, 27456, 27489, 27493, 27518
crit24398: 27488
crit24508: 27517, 27519, 27528
crit24545: 27525
crit25303: 27413, 27458, 27481, 27493, 27514, 27520
crit26090: 27430, 27444, 27445, 27451, 27518
crit26158: 27445, 27459, 27482, 27500, 27521
crit26313: 27387, 27437, 27446, 27453, 27459, 27460, 27462, 27467, 27479, 27480, 27483, 27488, 27494, 27502, 27519, 27522, 27523, 27526
crit26347: 27437
crit26803: 27387, 27468, 27508, 27529
crit26908: 27529
crit27112: 27456, 27465, 27482, 27521
crit27138: 27442, 27446, 27453, 27457, 27458, 27462, 27464, 27468, 27472, 27477, 27481, 27483, 27485, 27486, 27493, 27497, 27504, 27507, 27509, 27514, 27515, 27524, 27527, 27531
crit27262: 27443, 27456, 27480, 27501
crit27299: 27387, 27413, 27438, 27460, 27467, 27493
crit27435: 27438
crit27548: 27520, 27530
crit27691: 27289
crit27700: 27487, 27495
crit27770: 27466, 27491, 27507
crit27998: 27501
crit28024: 27429
crit28197: 27479
crit28256: 27464
crit28585: 27451, 27458, 27485, 27501, 27528
crit28644: 27471
crit29083: 27387, 27445, 27450, 27459, 27489, 27501, 27520
crit29287: 27449, 27453
crit29336: 27518, 27525
crit29353: 27387, 27493
crit29403: 27444, 27451, 27457, 27458, 27463, 27471, 27477, 27482
crit29430: 27463
crit29490: 27485
crit29627: 27387, 27456, 27493, 27501, 27517, 27519, 27521
crit29653: 27437, 27517
crit29765: 27430
crit29772: 27289, 27413, 27438, 27440, 27442, 27477, 27478, 27500, 27507, 27516, 27519
crit29845: 27445, 27501
crit29901: 27387
crit29988: 27289, 27438, 27443, 27445, 27446, 27457, 27461, 27469, 27477, 27481, 27482, 27494, 27495, 27500, 27522, 27530
crit30278: 27466
crit30307: 27413, 27468, 27478, 27509, 27524
crit30684: 27289, 27430, 27438, 27439, 27440, 27447, 27459, 27460, 27461, 27467, 27470, 27477, 27480, 27481, 27483, 27484, 27493, 27495, 27498, 27504, 27507, 27516, 27518, 27523, 27526
crit30686: 27517
crit30702: 27458, 27471, 27518
crit30704: 27430
crit30721: 27459, 27527
crit30728: 27456, 27500
crit30731: 27459, 27485, 27493
crit30891: 27509
crit30977: 27450, 27456, 27493
crit31131: 27387, 27438, 27442, 27495, 27520
crit31243: 27521, 27525
crit31248: 27447
crit31259: 27442, 27472, 27482, 27517
crit31329: 27487, 27517
crit31386: 27387, 27449, 27472, 27489, 27505
crit31417: 27445, 27459, 27481, 27501
crit31523: 27430, 27445, 27458, 27482, 27493, 27521
crit31585: 27456, 27529
crit31675: 27442, 27517, 27520, 27521, 27530
crit31710: 27444, 27447, 27453, 27456, 27468, 27478, 27482, 27490, 27495, 27497, 27499, 27519, 27525
crit31725: 27466
crit31759: 27451, 27458, 27485, 27501, 27518
crit31772: 27440, 27450, 27467, 27482, 27485, 27495, 27507
crit31785: 27485
crit31828: 27387, 27413, 27500
crit31947: 27437, 27467, 27480, 27493, 27504, 27526
crit31975: 27480, 27485, 27501, 27528
crit32001: 27493, 27496, 27499, 27500, 27501, 27506, 27515, 27517, 27518, 27519, 27525
crit32040: 27387, 27413, 27430, 27438, 27458, 27495, 27497, 27545
crit32105: 27493, 27496, 27500, 27501
crit32216: 27446, 27478, 27489, 27520, 27521, 27529
crit32219: 27482, 27489
crit32259: 27448, 27464, 27481, 27525
crit32297: 27445, 27449
crit32349: 27289, 27413, 27440, 27445, 27468, 27480, 27496, 27501, 27520
crit32415: 27458, 27487
crit32448: 27438, 27456, 27479, 27493, 27525
crit32493: 27491
crit32596: 27443, 27456, 27487, 27495, 27497, 27500, 27520, 27530
crit32647: 27445, 27461, 27465, 27484
crit32714: 27387, 27440
crit32793: 27471, 27517, 27518
crit32827: 27443
crit32843: 27413, 27493
crit32844: 27430, 27438, 27443, 27450, 27453, 27459, 27468, 27485, 27500, 27502, 27519, 27528
crit32856: 27434, 27437, 27446, 27451, 27458, 27462
crit32902: 27468, 27489, 27499, 27528
crit32991: 27413, 27444, 27457, 27502, 27506, 27525
crit33020: 27387, 27444, 27469, 27490, 27528
crit33034: 27442, 27471, 27506, 27524
crit33056: 27429, 27500
crit33101: 27447, 27456, 27500
crit33147: 27458, 27479, 27501, 27517
crit33148: 27486, 27493
crit33178: 27443
crit33194: 27453, 27459, 27464, 27502
crit33229: 27444, 27445, 27456, 27473, 27487
crit33256: 27413, 27437, 27440, 27466, 27488, 27504, 27517, 27520
crit33264: 27443, 27471, 27501, 27505
crit33267: 27471, 27482, 27493
crit33280: 27289
crit33304: 27438, 27469, 27495, 27500, 27521
crit33312: 27479
crit33313: 27458, 27461, 27473, 27484, 27493, 27494, 27508, 27514
crit33351: 27457, 27458, 27473, 27493
crit33382: 27429, 27443
crit33435: 27459, 27514, 27516, 27517, 27518, 27519, 27520, 27521, 27525, 27528, 27529
crit33441: 27430, 27444, 27465, 27486, 27500, 27501, 27530
crit33451: 27387, 27443
crit33464: 27453, 27524
crit33491: 27437, 27505
crit33498: 27444
crit33546: 27471
crit33596: 27430, 27440, 27470, 27494, 27519
crit33603: 27429
crit33609: 27459, 27497, 27500
crit33612: 27451
crit33659: 27445, 27530
crit33674: 27489, 27524
crit33680: 27456, 27463, 27466, 27482, 27489, 27491, 27494, 27495, 27509, 27516, 27518, 27519, 27531
crit33692: 27430, 27445, 27473, 27487
crit33712: 27447, 27491, 27506
crit33735: 27450, 27451, 27453, 27489, 27490, 27493, 27496, 27518, 27524, 27525, 27528, 27529
crit33745: 27445, 27489
crit33846: 27289, 27387, 27413, 27456, 27458, 27472, 27478, 27479, 27482, 27485, 27487, 27489
crit33849: 27413, 27479, 27485, 27489
crit33855: 27448, 27458, 27493, 27525
crit33857: 27439, 27468
crit33867: 27482, 27483, 27502, 27516
crit33869: 27289, 27430, 27448, 27463, 27485, 27495, 27497, 27529
crit33881: 27387, 27430, 27443, 27450, 27469, 27485
crit33892: 27446, 27494
crit33899: 27464, 27471
crit33903: 27460, 27479, 27503, 27516
crit33904: 27387
crit33916: 27289, 27448, 27449, 27471, 27502
crit33917: 27439, 27464, 27465, 27466, 27484, 27489, 27497, 27507, 27515, 27524
crit33920: 27445, 27459, 27485
crit33931: 27289, 27387, 27429
crit33947: 27289, 27450, 27459, 27460, 27463, 27465, 27488, 27496, 27507, 27523, 27524, 27525, 27529
crit33949: 27442, 27472, 27480, 27506, 27526
crit33952: 27469, 27482, 27490
crit33958: 27289, 27451, 27458, 27478
crit33973: 27449, 27466, 27505
crit33990: 27289
crit34009: 27438, 27472, 27526
crit34016: 27444, 27468
crit34019: 27289
crit34032: 27413, 27468, 27482
crit34044: 27289
crit34052: 27466
crit34062: 27430, 27440, 27491
crit34069: 27289
crit34073: 27289
crit34076: 27289
crit34082: 27531
crit34083: 27479, 27495, 27502, 27531
crit34116: 27413
crit34126: 27468, 27480, 27487
crit34134: 27430, 27444, 27445, 27456
crit34141: 27451, 27459, 27487, 27501, 27528
crit34174: 27387
crit34176: 27438, 27487, 27499, 27524
crit34179: 27430, 27445, 27458, 27482
crit34180: 27413, 27430, 27465, 27489, 27520
crit34181: 27442, 27464, 27473, 27478, 27483, 27528
crit34189: 27448, 27507
crit34211: 27387, 27444, 27488, 27506, 27525
crit34218: 27429, 27442
crit34225: 27430, 27438, 27440, 27442, 27443, 27445, 27447, 27448, 27449, 27450, 27451, 27453, 27457, 27459, 27465, 27468, 27469, 27471, 27472, 27473, 27486, 27489, 27493, 27495, 27496, 27497, 27499, 27500, 27501, 27502, 27504, 27506, 27507, 27510, 27522, 27528, 27529
crit34229: 27430, 27444, 27450, 27496
crit34232: 27450, 27456, 27458, 27482, 27518, 27525
crit34250: 27441, 27448, 27463, 27507, 27511, 27519
crit34251: 27434, 27463, 27467, 27480, 27486, 27494, 27515, 27522, 27524
crit34252: 27434, 27440, 27470, 27472
crit34258: 27472
crit34260: 27449
crit34265: 27448, 27473, 27488, 27501
crit34270: 27429, 27448, 27470
crit34271: 27429, 27445, 27479, 27491, 27505, 27506
crit34273: 27466, 27491
crit34274: 27443, 27473, 27487, 27496, 27524
crit34276: 27413, 27429, 27430, 27434, 27493
crit34277: 27413, 27438, 27468, 27485, 27495
crit34288: 27429, 27438, 27441, 27451, 27456, 27467, 27468, 27477, 27484, 27491, 27495, 27497, 27503, 27514, 27523, 27531
crit34289: 27430, 27460, 27486, 27507
crit34294: 27430, 27445, 27463, 27465, 27472, 27485, 27487, 27497, 27528
crit34295: 27495
crit34298: 27438, 27448, 27450
crit34305: 27438, 27450
crit34306: 27443, 27448, 27458, 27461, 27464, 27485, 27489, 27499, 27511, 27516, 27522
crit34307: 27440, 27473, 27485, 27502, 27527
crit34312: 27491
crit34314: 27453, 27458, 27467, 27485
crit34315: 27457, 27484, 27507, 27522
crit34319: 27456, 27479
crit34320: 27469, 27478, 27493, 27514
crit34321: 27465, 27479
crit34322: 27464, 27478, 27489, 27490, 27493, 27496, 27501, 27514, 27524
crit34323: 27473, 27480, 27502, 27507, 27516, 27520, 27525
crit34324: 27473, 27487, 27495, 27497, 27517
crit34328: 27457, 27458, 27460, 27461, 27462, 27464, 27465, 27469, 27470, 27471, 27472, 27473, 27477, 27478, 27479, 27490, 27495, 27503, 27510
crit34331: 27460
crit34332: 27460, 27470, 27472, 27507, 27514
crit34334: 27472, 27486, 27487, 27500, 27519
crit34335: 27461, 27463, 27473, 27484, 27488, 27489, 27497, 27504, 27506, 27520, 27528
crit34337: 27464, 27471, 27488, 27493, 27519, 27548
crit34342: 27471, 27485, 27493, 27528
crit34343: 27456, 27458, 27467, 27468, 27493
crit34345: 27457, 27459, 27479, 27515
crit34346: 27477
crit34352: 27489, 27493, 27500, 27502, 27517
crit34354: 27496, 27529
crit34358: 27486
crit34365: 27493, 27495, 27516, 27528
crit34373: 27505, 27514
crit34377: 27495, 27508
crit34378: 27458, 27479
crit34385: 27499, 27529
crit34387: 27495, 27497, 27501, 27524
crit34391: 27493
crit34393: 27505, 27507
crit34394: 27493, 27497, 27517
crit34396: 27519
crit34401: 27525, 27528
crit34402: 27514, 27515, 27516, 27517, 27520, 27522, 27525
crit34404: 27514, 27520, 27524
crit34412: 27517
crit34415: 27521
crit34418: 27526
crit34426: 27520, 27526
crit34430: 27509
crit5903: 27518
crit6142: 27468, 27471
crit8013: 27446, 27473, 27485, 27493, 27494, 27504, 27519, 27526
crit8284: 27497, 27516, 27527, 27531, 27544
crit9805: 27447, 27456, 27487, 27521