error_reporting (E_ALL ^ E_NOTICE); if (!$name) { $name="Critters"; $textonly=1; } ?> if (!$newspage) include("/home/httpd/html/users/critters/notices.inc") ?>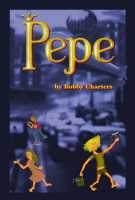 Pepe
by Robby Charters
Price: $0.99
Format: Ebook for Kindle (.mobi), Nook/iPad/others (.epub),
It's 2020. Pepe is a homeless boy who doesn't know his true identity. Helping him are a young computer hacker named Raul, and an aged mystic named Atsuko. Gen. Don Juan Clemente is president for life. He's quadriplegic, but his brain is hooked to massive computer system, including an army of killer robots, poised to destroy any threat to his power. His biggest threat: a street boy named Pepe
~~~
This ebook is in your choice of formats that work for almost every ebook reader and has no copy protection ("DRM"). Read it on any reader you want, any time.
I hope you enjoy the ebook! If you like it, please tell others to visit https://critique.org/c/store
---
error_reporting (E_ALL ^ E_NOTICE); ?>