error_reporting (E_ALL ^ E_NOTICE); if (!$name) { $name="Critters"; $textonly=1; } ?> if (!$newspage) include("/home/httpd/html/users/critters/notices.inc") ?>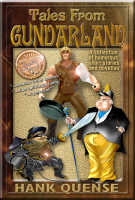 Tales From Gundarland
by Hank Quense
Price: $3.49
Format: Ebook for Kindle (.mobi), Nook/iPad/others (.epub),
Laughter is like free health insurance: you can't get too much of it. This book will give you enough laughs to boost your health. It's filled with delightful entertainment. Without commercial interruption! Gundarland is populated by humans, dwarfs, elves and other races; it's the backdrop for unique adventures, brilliant heroes and cunning villains. There are six short stories and two novellas in here. All are new. You'll meet some of Shakespeare's most famous characters, a warrior-cook, vigilantes, a trio of beautiful, lusty princesses to mention just a few of the memorable characters in the stories. Readers and reviewers say: "This collection of stories is fun from beginning to end. "Tales from The Gunderland is one of those books that could easily become a cult phenomenon." "As I read each character's story I couldn't help but laugh. "Tales from Gundarland is an action packed, comical roller coaster."
~~~
This ebook is in your choice of formats that work for almost every ebook reader and has no copy protection ("DRM"). Read it on any reader you want, any time.
I hope you enjoy the ebook! If you like it, please tell others to visit https://critique.org/c/store
---
error_reporting (E_ALL ^ E_NOTICE); ?>