error_reporting (E_ALL ^ E_NOTICE); if (!$name) { $name="Critters"; $textonly=1; } ?> if (!$newspage) include("/home/httpd/html/users/critters/notices.inc") ?>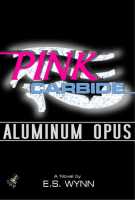 Pink Carbide: Aluminum Opus
by E.S. Wynn
Price: $1.99
Format: Ebook for Kindle (.mobi), Nook/iPad/others (.epub),
The year is 2162, and Cylea is alone in the world. She has faced death first hand, escaped the clutches of corporate assassins and corrupt government agents to find herself so close to answers she can almost touch them, but even the sloppiest hacker or vatgrown dreg knows Big Corporate doesn't just roll over so easily. Now only the thin thread of a triad-owned international flight stands between her and oblivion, desperately reaching for the salvation that lay waiting in Hong Kong, but is that salvation just a phantom, her hopes doomed to failure, or will she finally reach safety and discover who and what she is? Find out in this groundbreaking sequel to Pink Carbide, internationally acclaimed author E.S. Wynn's second novel: Aluminum Opus.
~~~
This ebook is in your choice of formats that work for almost every ebook reader and has no copy protection ("DRM"). Read it on any reader you want, any time.
I hope you enjoy the ebook! If you like it, please tell others to visit https://critique.org/c/store
---
error_reporting (E_ALL ^ E_NOTICE); ?>