error_reporting (E_ALL ^ E_NOTICE); if (!$name) { $name="Critters"; $textonly=1; } ?> if (!$newspage) include("/home/httpd/html/users/critters/notices.inc") ?>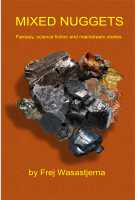 Mixed Nuggets
by Frej Wasastjerna
Price: $0.99
Format: Ebook for Kindle (.mobi), Nook/iPad/others (.epub),
A collection of seven short, mainly idea-centered, science fiction, fantasy and mainstream stories, many of them light entertainment but some darker, with the following themes: - An author, desperate to be published, tries occult means. - Aliens investigate the treasures of an abandoned Earth. - A newspaper needs more truth. - A small slip-up in Heaven gets corrected. - A favorite theme in speculations about time travel has been going back and killing the Führer when he was young. Maybe somebody did? - A widower thinks about the last weeks of his marriage. - What do dragons like most?
~~~
This ebook is in your choice of formats that work for almost every ebook reader and has no copy protection ("DRM"). Read it on any reader you want, any time.
I hope you enjoy the ebook! If you like it, please tell others to visit https://critique.org/c/store
---
error_reporting (E_ALL ^ E_NOTICE); ?>