error_reporting (E_ALL ^ E_NOTICE); if (!$name) { $name="Critters"; $textonly=1; } ?> if (!$newspage) include("/home/httpd/html/users/critters/notices.inc") ?>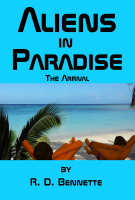 Aliens In Paradise - The Arrival
by R. D. Bennette
Price: $3.99
Format: Ebook for Kindle (.mobi), Nook/iPad/others (.epub),
Scientists on the planet Septura have discovered TV signals emanating from Earth. Children of these scientists, born in space, become the first aliens to set foot on our planet. Are aliens from another world prepared for the oddities they are about to discover in the paradise we call Florida?
~~~
This ebook is in your choice of formats that work for almost every ebook reader and has no copy protection ("DRM"). Read it on any reader you want, any time.
I hope you enjoy the ebook! If you like it, please tell others to visit https://critique.org/c/store
---
error_reporting (E_ALL ^ E_NOTICE); ?>