error_reporting (E_ALL ^ E_NOTICE); if (!$name) { $name="Critters"; $textonly=1; } ?> if (!$newspage) include("/home/httpd/html/users/critters/notices.inc") ?>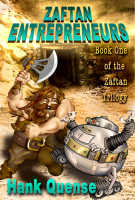 Zaftan Entrepreneurs
by Hank Quense
Price: $3.49
Format: Ebook for Kindle (.mobi), Nook/iPad/others (.epub),
Book 1 of the Zaftan Trilogy: Tired of reading scifi and fantasy stories that take themselves too seriously? Zaftan Entrepreneurs is a unique First Contact story; it is part adventure and part corporate and political satire spiced with comic relief. Here, you'll find nasty, snarly aliens, fantasy creatures, humans, romance, magic, and--just like the real world--incompetent politicians and feuding bureaucracies. What more could a fantasy/scifi reader ask for? Readers and reviewers say: "...extremely funny and entertaining" "...very funny and unlike any sci-fi book I've seen out there" "This tongue-in-cheek novel is a delight for sci-fi fans, wonderfully humorous without descending into silly."
~~~
This ebook is in your choice of formats that work for almost every ebook reader and has no copy protection ("DRM"). Read it on any reader you want, any time.
I hope you enjoy the ebook! If you like it, please tell others to visit https://critique.org/c/store
---
error_reporting (E_ALL ^ E_NOTICE); ?>