Blog
Critter Notices
Critters is 22!
Yes, 21 years ago Critters was born. Wow! Thanks so much to all of you, who've made it such a resounding success!
Books from Critters!
Check out Books by Critters for books by your fellow Critterfolk, as well as my list of recommended books for writers.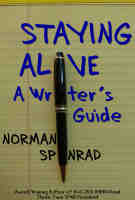 Stayin' Alive
If you want to make a career of SF writing,
STAYING ALIVE - A WRITER'S GUIDE
by three-time SFWA President Norman Spinrad, published by your Critter Captain's
ReAnimus Press
, is an indispensable guide to the inside workings of the SF publishing industry by an expert.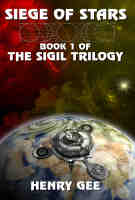 The Sigil Trilogy
If you're looking for an amazing, WOW! science fiction story, check out
THE SIGIL TRILOGY
. This is — literally —
one of the best science fiction novels I've ever read.
P&E Seeks New Caretaker
Unfortunately, much of the data on the P&E site has become stale and outdated, and needs a new caretaker with the time required to update the site. The listings are being removed until they can be updated by a new caretaker.
Note that the P&E/Critters Annual Readers Poll will run as usual in January.
If you are interested in taking the reins of P&E, and possess what's needed — at least 20hrs/week to volunteer, excellent investigative skills, in-depth knowledge of the publishing industry, ability to detect scams from not-scams, thick skin, good web site skills, good writing ability — please get in touch. Thanks for your interest!
Interviewed!
I'm being interviewed live on public radio for Critters 20th birthday. For those who want to listen, it's on the 10am (Mountain time) show on Thursday, 11/19/16, on Colorado Public Radio - www.cpr.org has streaming on the site or it's 90.1 FM in the Denver area. [Interview is done, you can listen on the site]
Free Web Sites
Free web sites for authors (and others) are available at www.nyx.net.
ReAnimus Acquires Advent!
ReAnimus Press is pleased to announce the acquisition of the legendary Advent Publishers! Advent is now a subsidiary of ReAnimus Press, and we will continue to publish Advent's titles under the Advent name. Advent was founded in 1956 by Earl Kemp and others, and has published the likes of James Blish, Hal Clement, Robert Heinlein, Damon Knight, E.E. "Doc" Smith, and many others. Advent's high quality titles have won and been finalists for several Hugo Awards, such as The Encyclopedia of Science Fiction and Fantasy and Heinlein's Children. Watch this space for ebook and print editions of all of Advent's current titles!
Network speeding up
I'm switching the connection over to a new, shiny 10X faster network because of all the load. There might be bits of downtime as your boxes learn new addresses and things. Should be brief. Let me know of any prolonged outages you see.
Preditors & Editors Changeover
With the very sad passing of Dave Kuzminski, who ran P&E, I've taken over the P&E duties. Lots of what I hope are improvements; check it out at pred-ed.com.
Critters Server is Dying has been Replaced
See important details here in my blog. Let me know if you find anything that isn't working right. (Manuscripts are now available for this week, FYI.)
Book Recommendation
THE SIGIL TRILOGY: The universe is dying from within... "Great stuff... Really enjoyed it." — SFWA Grandmaster Michael Moorcock
Announcing ReAnimus Press
If you need help making ebooks from manuscripts or print copies—or finding great stuff to read—look no further! An ebook publisher started by your very own Critter Captain. (And with a 12% Affiliate program.) [More]
~~~
FEATURED BOOK
~~~
Comments
Comments for: The Age of Miracles, Robert Runte, Laska Media, https://www.amazon.ca/Strangers-Among-Underdogs-Anthology-Speculative-ebook/dp/B01FD2GQSE
The comments below are from those who voted for this entry. (To add a comment, visit the voting page and vote for this entry.)
---
If you talk to your toaster, does that mean you're crazy or in the age of the Internet of Things?
---